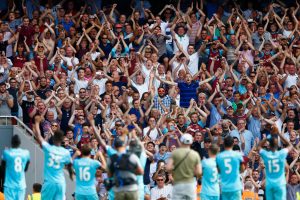 The initial 90% of 3,000 tickets for Arsenal away at the Emirates have sold out to Season Ticket Holders with 14+ priority points within a few hours.
The news comes as Liverpool away at Anfield for the first day of the season sold out to Season Ticket holders with 11+ points last week.
The ballot for the remaining 300 tickets at the Emirates will open to Season Ticket Holders at 11 am on Monday 6 August, closing at 11 am on Tuesday 7 August. The ballot will be run on that afternoon, with notifications sent and payment taken from successful applicants that day.
The first five hundred tickets are automatically awarded to away season ticket holders followed by priority for 808 Bond Holders before Priority Point holders finally get their chance.
West Ham say there are less than 2,000 tickets remaining for the home game against AFC Bournemouth at the London Stadium at 3pm on Saturday 18 August.