Jack Collison has written an emotional open letter to all Hammers on the club's official website.  If ever someone wanted a definition of the 'West Ham way' this is it! Good luck Jack!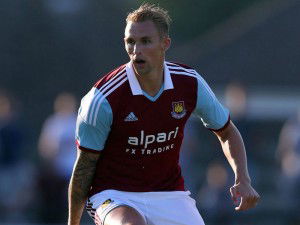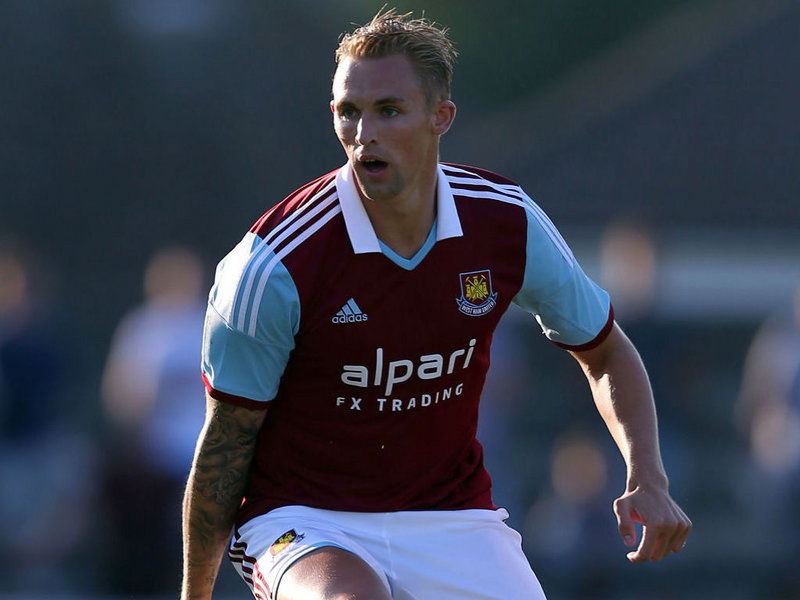 Hello everyone,
The time has come for an end to my West Ham United career. What a rollercoaster it has been – I have experienced plenty of ups and downs during my nine-year spell at West Ham!
Signing at 16, I wasn't sure if I was ready for the challenge but with the love and care of Bob and Val, who run the Academy digs, I soon settled and found the new challenge exciting. I had to pinch myself at times, moving from a quiet village into a big house in Essex under the guidance of the one and only Tony Carr – the man who brought through the likes of Frank Lampard, Joe Cole and Rio Ferdinand.
I went from being star-struck by the first-team players at Cambridge United to rubbing shoulders with the likes of Teddy Sheringham. I often doubted my ability in my early days, but Teddy was one of the senior players who gave me confidence to go out on the training pitch and express myself. I always felt he believed in me and, with a man like that behind me, I felt there was nothing I couldn't accomplish.
I made steady progress over the next couple of seasons and went on to captain both the youth team and reserves, as well as be in and around the first team. Alan Pardew allowed me to travel with the first team on a couple of occasions while he was in charge and both trips will stay with me for very different reasons.
On my first away trip to West Brom, I found out I had to sing In front of the first team at dinner. Needless to say, I was an absolute wreck the whole journey up. I spent my time watching the older pros, trying to learn the words to Wonderwall and sweating at the thought of what the night may bring. Dinner soon came around and the tapping on the glasses began, so I knew it was time. I stood up shaking, sweating and nearly tumbled off my chair. I closed my eyes and produced the worst ever rendition of Wonderwall!
To be fair to Christian Dailly, he tried his hardest to help me along in between taking the mickey with the rest of lads. Once it was over, I felt like my shoulders were lighter immediately – now I could concentrate on playing football!
Unfortunately I didn't make it onto the pitch the next day, but being in and around it made me hungrier for more. Kyel Reid made his debut that night and I remember how excited I was to see one of the young boys out on the pitch playing and putting in a fantastic performance. After that experience, I had a new belief that maybe I could make an impact on the first team.
The second time I travelled that season was with the squad for the FA Cup final. I knew I wouldn't be involved, but it was great to be part of it and to witness first-hand one of the greatest finals in history. The boys went so close that day, I was devastated they didn't take the trophy home. I remember Kevin Keen taking James Tomkins and myself onto the pitch before the lads went out to warm-up and I couldn't believe the atmosphere.
It was also on this trip that Nobes and Chrissy Cohen trashed our room! It was little things like this that made me feel part of it. I went home over the summer and came back more motivated than ever before.
The next couple of seasons, I worked very closely with Kevin Keen and still, to this day, I believe he is one of the best coaches in the game. I felt he really developed my game and every session was a joy to be involved in. Alan Curbishley was in charge now and I was close to the first team, but not quite there.
My debut finally came and it was Arsenal away at the Emirates. What a start! I remember the whole day as if it was yesterday. Tonks and myself had been travelling with the first team a lot that season but never made the bench – we'd had lots of close calls that always ended in disappointment.
That morning, Curbs caught us both in the lift on the way to breakfast. It was that awkward lift ride with the manager and two young lads who didn't know what to say. It was at that point he turned to us and said 'Make sure you're ready lads. You're both on the bench today'. Of course, we acted cool until the Gaffer stepped out, then we couldn't contain the excitement any longer. Left alone, we celebrated like we had won the World Cup,then off we went to prepare. Curbs must have heard the celebrations and had a laugh to himself but I'm not sure he will ever know how happy he made me at that precise moment .
I'm not sure the Gaffer had any intention of playing me but Freddie Ljungberg picked up a knock early on and before I knew it I was prepping myself and getting ready to come on. I couldn't believe it – that feeling from the lift was back, but even stronger this time. It was a mixture of sheer joy and disbelief but I didn't have any time to worry about what could go wrong, I was floating at that point.
The manager soon brought me back down to Earth when his last words were: 'Try and get close to Fabregas'. I tried my hardest, and covering 7.5 km in the second half alone was some sort of record that season. I never did manage to get close to Fabregas in that game, though. He didn't give me a sniff and, in fact, I probably only had about ten touches in 60 minutes of football. I didn't care, though, as I had made my debut, and where better than Arsenal away. What an experience and a day I will never forget. I remember leaving the game disappointed as I thought I had a bad game, but Anton Ferdinand had some words of encouragement that picked me up again.
I only featured once more that season, in a loss to Bolton, but the following year was my breakthrough season. Gianfranco Zola was now in charge. I couldn't believe it. One of my heroes was teaching me how to play the beautiful game!
His first session I will never forget – we were playing a game of two-touch and, of course, he wanted to play. The ball was fired into him and with his first two touches, without thinking, he managed to swivel on a sixpence, nutmeg one of the lads and then dink Robert Green from 20 yards. Silence spread across the training pitch as the boys stood there in amazement, mouths on the floor. I think at this point the manager realised what he had done as the whole team gave our new Gaffer of 24 hours a round of applause.
Instead of lapping up the attention, the Gaffer seemed slightly embarrassed and gave a genuine apology to the boys. This showed the character of the man – an absolute wizard on the pitch and possibly the nicest man I have met to this day in football. He was different to any manager I had worked with as he seemed to care about everyone – even the young boys who were nowhere near it like myself.
We spent hours on the training pitch after training, working on ball skills and areas where I could improve. I finally made my breakthrough around October time and came in at Manchester United, and this time I left feeling pleased. I felt like I could make an impact and here I was playing for a manager I would run through a brick wall for, as would the rest of the team. I think this was the reason why we did so well that year.
We finished ninth but really should have got into Europe, along the way playing some great football, and scoring some great goals. I also scored my first goal for West Ham that season against Everton at home. Although we ended up losing the match, it was a moment I will never forget. Scott Parker made a great run and flicked the ball back for me and I managed to open my body up and stick it in the top corner.
At that point as the ball struck the net, I felt a feeling I will maybe never feel again – so much excitement, so much emotion and so much relief. I had made history. I had scored in the Premier League. Not just for anyone, but wearing the famous Claret and Blue.
It was at this point I felt the start of my special relationship with the fans – one that has helped me through tough times and also many shared great times. It was at this point I felt part of the West Ham family, a family I was desperate to be part of I finally felt like I belonged.It was the following season when tragedy struck and that I really realised what it was to be part of that special family.
That night against Millwall in the Carling Cup will be remembered for many reasons, but for me it showed me what the West Ham family is truly about – real people, with real feelings who pulled me through the toughest time in my life.
After playing Tottenham at home the previous weekend, my Dad unfortunately died on the way to watch the game. At 20-years-old I was distraught to say the least. I had lost not only my Dad but the man I had looked up to my entire life.
I made the decision to play in the Millwall game – something my Dad would have wanted me to do. I was a mess, I remember walking onto the team bus before the game and nearly bursting into tears. It was at that point it began – team-mates picking me up, staff giving me words of encouragement and then I walked out onto the pitch.
Wow! I was carried that night by every single person inside that stadium. My legs were jelly, my head was all over the place and the lights were brighter than ever before. I ran my socks off that night, so desperate to win and when we went 1-0 down it was disaster. It was not looking like a memorable way to give my Dad a proper send off, then Junior Stanislas scored and took it to extra-time.
Then we won a penalty and I'm not a man of many regrets, but one of my regrets is not stepping up and taking it. I knew Junior would score so I let him take it and of course he did. I was so desperate to score and I even hit the post.
As extra-time continued I slowly found myself looking round the stadium, everywhere I looked I could feel people willing me to do well and showing me support like you wouldn't believe. Zavon Hines nicked the next goal to make it 3-1, and so much relief went through my body as I ran over to celebrate. I remember thinking 'That's it, we've won' and it was at that point Zav whispered to me, 'That's for your Dad'. At that moment I could feel the tears starting to come.
What a gesture. Who better to score than someone I had shared digs with, come through the youth team with and spent hours talking rubbish with. Zav will never know how much that meant to me that evening and I'm not sure the West Ham fans will either, but hopefully this will go some way towards that.
That game should be remembered for one thing – the West Ham family uniting and all coming together for one of their own. The staff, the players and the fans carried me that night and that will live with me for the rest of my life. I tried my hardest to thank everyone after the game when I walked around the pitch, and it was at that precise moment I was overcome with emotion and tears started to flow as reality once again set in.
Football was my escape, and I wasn't playing for anyone, I was playing for West Ham, I was playing for every fan who carried my night, every fan who took the time to write to me. I was playing for the memory of my father and, after that night in particular, I always felt a special bond with the fans.
After this I experienced a nasty injury and witnessed the boys going through relegation, helpless until the very last games, pulling my hair out, feeling how every fan felt, kicking every ball from the stand.
I was chucked in for the Wigan game, and as hard as I tried I was helpless to stop the end result and it was that day we were relegated. It was a serious low in my career but it's after that game I promised myself I would do everything in my power to help get West Ham back where they belong – the Premier League.
The following season was possibly one of my most enjoyable in a West Ham shirt. I made my biggest contribution towards the team in terms of goals and games and was thoroughly enjoying my football under Sam Allardyce.
Kevin Nolan was a fantastic captain and we built an amazing team spirit that year. Although we didn't get automatic promotion, the Play-Offs were one of the best experiences of my life. I hope those two goals in the Play-Off semi-final will go some way to paying the people back who stuck by me and supported me.
Of course we won the final and celebrating on the pitch afterwards was an amazing experience. Not just winning promotion, but winning promotion with some of my best friends, was really fantastic.
I got another injury at the beginning of our first season back in the Premier League and struggled after that to make enough of an impact.
I hope I'm remembered as someone who gave his all in every game. Even when things weren't going well, I always tried my best to have a positive impact, not just on pitch, but also off the pitch and around the training ground.
It's at this point I must thank the medical staff at West Ham. They have stuck with me through everything and have been fantastic throughout. The moody days, the down days, the rainy days, I have experienced every moment alongside some of the best medical guys I have ever had the privilege of working with. Through my darkest days, they keeping me going, but we also experienced some great moments and my goal at Arsenal in January 2013 was dedicated to the medical team for getting me back fit time and time again. That moment has a special place and although we lost the game I had been through an awful lot the previous seasons and felt we deserved to enjoy that moment together, where it all began.
I must also thank all the other staff members who work day after day behind the scenes making West Ham what it truly is. There are lots of unsung heroes, too many to mention. They know who they are and I hope they know I have fond memories with every single one of them.
And lastly, as I move forward with my own career, I would like to take this opportunity to thank the fans once more. You have a fantastic set up, great staff and some wonderful players. As you move closer to the Olympic Stadium I wish you lots of luck.
I'm looking forward to coming back to the Boleyn before then, of course. You deserve good times and I'm sure they are on the horizon. I'm sorry I didn't get chance to say goodbye but I hope I will in the near future.
Not many can say they have had the honour of wearing the famous Claret and Blue but I hope they know I truly feel blessed for the opportunity. I have been lucky enough to work with some great people and during my time and have played alongside some truly inspirational and talented players.
As we part ways I have many fond memories of West Ham as a Club and would like to once more thank you for letting me be part of a very special family, one that you will never truly understand until your part of it, one that I have experienced every emotion known to man with – the West Ham family.
JC x