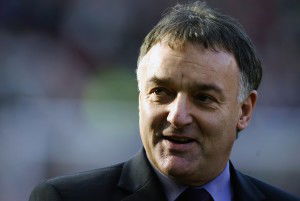 Former Irons and Stoke City boss Lou Macari doesn't believe the Olympic Stadium can be expected to generate the intimidating atmosphere visiting teams experience when visiting Upton Park.
Writing in his column in the Stoke Senitel, Macari says: "The stands at Upton Park have moved back from the pitch with re-development, but it still retained the atmosphere and however good or bad West Ham were doing, that was always a hard three points to gain in that part of London.
Their new stadium may be bigger and plusher, but I don't see it generating anything like the same intimidating atmosphere that Upton Park can for visiting teams."
The Potters make their last visit but one to the Boleyn on Saturday and the Hammers boss of  the nineties declares: "West Ham would certainly be worried if they looked back on Stoke's experience.
He says: "As a player, you knew you'd have people almost on top of you and screaming all sorts in your face whenever you played against Stoke at the Victoria Ground.
"That memory was one of the reasons I went to Stoke as manager in 1991 – and it's fair to say the fans didn't disappoint because they certainly played their part in our success.
"The first 10 years or so at the Britannia Stadium were difficult times for the club and the chronic lack of atmosphere was a huge problem.
"As a Premier League club, West Ham certainly can't afford to wait 10 years to generate the right atmosphere in home games."