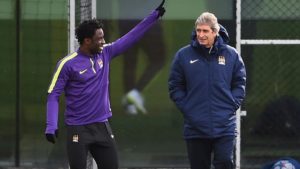 Reports that Wilfried Bony, Hatem Ben Arfa or Shinji Okazaki could sign for West Ham are completely wide of the mark.
The Daily Mail has claimed the Hammers were interested in the former Newcastle and France attacker Ben Arfa while other Hammers sites have claimed an interest in Bony or Okazaki. These reports don't stand to any close scrutiny as they miss one crucial factor, that being that there are no first-team squad positions remaining.
A West Ham squad list of 23 first team players was published by the Premier League last night with the maximum 17 non-grown players included. The two remaining places are for homegrown players only which Bony, Arfa or Okazaki don't qualify.
Under 21's can still join the Hammers squad but again Bony (30) Arfa (32) and Okazaki (33) obviously don't meet that criteria either.
Xande Silva was instead named in yesterday's squad rather keep a non-homegrown place free. He is expected to return in October.