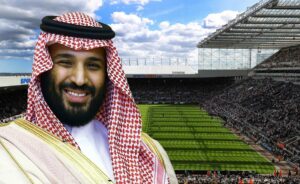 Fresh West Ham takeover rumours have surfaced in the last twenty-four hours with a prominent football social media account suggesting that a Saudi Arabia prince and/or Red Bull were keen on buying the Hammers.
Twitter account @IndyKaila with nearly 300,000 followers claimed "Credible source telling us that Crown Prince Mohammad bin Salman could turn his attention to West Ham as he is facing difficult issues at Newcastle. The source also stating that Red Bull are also keen on WHUFC Watch this space.."
The fresh claims lack credibility with potential investors unlikely to buy a football club whose Premier League status next season is in doubt. Any takeover interest would undoubtfully wait until the summer at the earliest when West Ham's league status is known.
The Saudi Arabia Investment fund is widely reported to be part of a consortium hoping to buy  Newcastle for £340m so perhaps it is easy to link them to other clubs, Redbull has long been linked with interest with the Hammers despite denying it publicly several times. In 2017 Redbull's group's global head of football, Oliver Mintzlaff flatly denied any suggestion they had made a  West Ham £650m takeover bid saying Red Bull are not currently looking to add to its portfolio of football clubs.
"I should really know about this in my function because I'd be actively involved in it," Mintzlaff told German magazine Kicker  at the time
"But I am not involved. Thus, I can completely rule it out. We continue to focus on our investments at our current clubs."
West Ham co-chairman David Sullivan did said in 2016 "We, the current owners, have no desire to sell the club unless it is to somebody like the King of Saudi Arabia who can take it to a level we cannot ourselves hope to reach,"   
Last October the Daily Mail ran a report that suggested talks have been held with a number of potential investors in America without producing a firm offer for West Ham mentioning ten per cent shareholder Tripp Smith and a £600m valuation of the club at the time. That report was played down at the time but long term an American consortium led by muli millionaire Smith could be a viable option perhaps with other investors such as Ameican billionaire Todd Boehly.
West Ham owners are thought to value the club somewhere between £500m and £700m, while it is believed they could be persuaded to sell up to the right offer they would want to make sure any potential buyer were not asset strippers and had real funds to take the club forward.