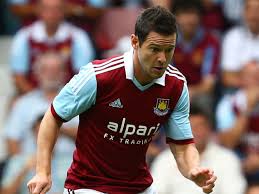 West Ham produced a thoroughly embarrassing first 45 minutes in Aukland going in at the interval two goals down.
It was a listless and aimless performance from a first half team which found itself on the retreat against some quick counter attacking.
They enjoyed some good early possession and only a great save from Moss kept them out following great work from Matt Jarvis who after beating his man wide cut a ball into Carlton Cole's path.
The big man fired in a deflected  shot from 14 yards but the keeper scrambled to the left to turn around the upright.
However, the home side took the lead just minutes later when Mark Noble hauled back Burns and former Sunderland midfielder Gorrin took a free kick which DURANTE headed past Jussi Jaaskalainen from close range.
The Hammers were really doing very little despite enjoying a fair bit of possession and they were further behind after 27 minutes.
Gorrin won a tackle against  Collins and with Cresswell backtracking,the No8 to slot a neat and well-placed finish into the far corner past Jaaskelainen.
Jarvis tried his luck but was wide before Diame slipped past three players but fired high over the top.
PIC: MATT JARVIS had a decent first half
Follow on Twitter @hughsouthon