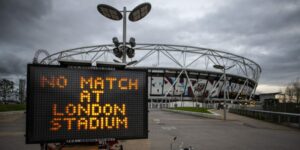 West Ham are reported to support Premier League clubs who oppose the use of neutral venus to complete the season.
Brighton chief executive Paul Barber has publicly voiced opposition to the idea of finishing the Premier League season at neutral venues and he has the support of West Ham claims Sky Sports.
Sky claim clubs were told on Friday limiting action to a handful of selected stadiums was the only way it would be possible to complete the remaining matches of the 2019-20 season for safety reasons. This included the London Stadium.
'Project Restart' were well received but there remained opposition on competition and integrity grounds about using neutral venues with Barber confirming Brighton are among those with reservations, while Sky Sports News understands fellow West Ham are also in that group.
"Clearly, we must all be prepared to accept some compromises, and we fully appreciate why playing behind closed doors is very likely to be a necessary compromise to play our remaining games while continuing to fully support the government's efforts to contain the spread of the virus" Barber said on the club's website.
West Ham are privately thought to strongly oppose the idea of neutral venues unless the threat of relegation was removed from finishing the 92 remaining fixtures.
In her Saturday Sun column, West Ham Vice-Chairman Karren Brady insisted no decision or votes were held on neutral venue plans on the Friday Premier League she attended via video conference.