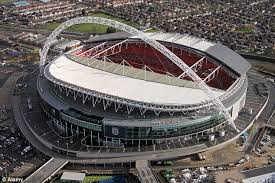 West Ham may earn no money from the League Cup game against Spurs next month.
EFL rules mean the Hammers are entitled to 45% of the gate money after expenses of opening the stadium have been factored in. Spurs will restrict the stadium to 51,000 but will still pay £300,0000 in rent for the game.
A West Ham source told the Sun: "They said we might get nothing from the gate as it costs £300,000 to open Wembley."
A Spurs spokesman said: "As another club renting a stadium, West Ham are aware and understanding of the costs involved for cup games and the difficulty in any profit being made for such fixtures."
Prize money is limited in the EFL cup with just £15,000 going to the winner of the 4th round tie. Although the game is being televised on TV the away TV facility fee is thought to be as little as £10,000.