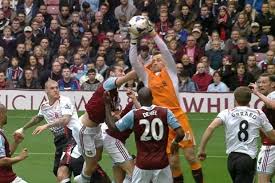 West Ham are believed to have broken Premier League regulations by screening a replay of the incident involving Andy Carroll and Simon Mignolet which led to our equaliser against Liverpool yesterday.
 The giant screen at Upton Park replayed the goal after it had finally been awarded by referee Anthony Taylor following a lengthy debate with his assistant.
 Referee's assistant Stuart Burt flagged for an infringement on the keeper but Taylor – after a lengthy conversation – awarded the goal.
 It was at this point that pictures showed Carroll's foul on Mignolet, prompting Liverpool's players to urge the officials to consider the footage.
 The replay was soon cut short by the screen operator, who takes a feed of Sky Sports coverage but is able to override reruns of controversial incidents.
 The screen also showed a graphic of Steven Gerrard's previous penalty attempts prior to his first-half conversion from the spot.
 Although that does not contravene Premier League regulations, had Adrian saved his spot kick we could have expected a hugely interesting debate