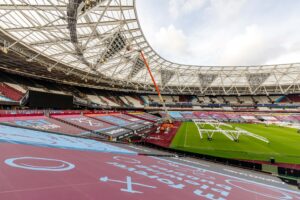 By Hughie Southon
The Premier League will take on the responsibility of deciding whether games are played next Saturday and Sunday following the death of HM Queen Elizabeth 11 and ahead of her funeral on Monday the 19th of September.
It had been believed initially that the funeral may be held on Saturday the 17th which would have certainly seen the programme wiped out.
However, that is not the case which leaves the PL with a decision to make after today's games were cancelled today as a result of the Queen's sad death at the age of 96.
The Department for Digital, Culture, Media and Sport (DCMS) have said that it will be up to the Premier League whether or not they will allow next weekend's fixtures to go ahead.
The Government is therefore leaving any decision to the League authority who will be very tempted to play the games given the fixture pile up which is being caused as a result of the Qatar World Cup interrupting the Premier League this season.
DCMS said: "Our guidance will stay the same. There's no obligation to cancel as far as the government is concerned. But it's ultimately up to the Premier League and EFL to make those decisions."
Met Police also added a statement for games due to take place in London, adding: "Whether matches go ahead is a matter for the football authorities. If fixtures do take place, the Met will work with the relevant partners and ensure that appropriate policing plans are in place."