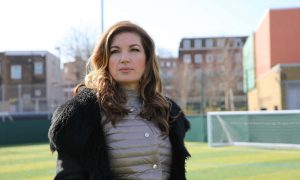 West Ham Vice-Chairman fears for her players' heath if football resumes too quickly.
Writing in Saturday Sun column share writes "it seems rather frivolous to be worried about when football will recommence.
But I am worried. The re-start is delayed until the virus is at least well under control, and who knows when that will be?
Even then, matches could be behind closed doors. This would save about £760million on our TV contracts but do nothing for all the other lost income.
And, as worried as I am about the financial impact, I am more worried about the health and wellbeing of my players.
All PL football players are in lock down at home (except some of the Spurs ones!) and there is only so much you can do to keep fit on a treadmill.
Some of my players are in flats, have no access to a garden and are literally, and I mean literally… climbing the walls!
The PL have said that whatever happens there will be at least a three-week return to fitness before any game is played and the season recommences.
Each club's medical team have a different view about if this is enough time to get properly match-fit.
And then what happens if games recommence and players get injured when playing? Are they sent to an already overburdened NHS hospital, as most private clinics are closed, and private hospitals repurposed?
How will we know if they are even fit to play and not able to spread the infection to other players?
We know some people can have the infection but remain asymptomatic. So how will testing be done, and by who?