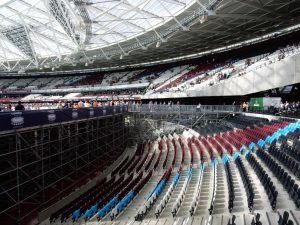 With minds constantly focused on an easing of the lock down there has been much discussion on how that could affect the return of football IN FRONT OF CROWDS!
Some weeks ago Terry Westley – our former academy director – told CandH  that as technical director of the J-League  one idea emerging was for crowds to be limited to the numbers required to maintain social distancing requirements inside stadiums.
Now it seems the UK could be heading  in that direction with media reports this morning referring to the possibility as perhaps  a realistic way forward.
It would be a very difficult one to operate but – and this is solely our suggestion – could see the turnstiles 'locked after the first 25k or 30k fans have entered the ground.
There may be more sophisticated ways forward and there's the tricky problem of perhaps allowing people in who have the disease.
That's something that could be solved by installing temperature barriers – similar to the airport security measures – where if your temperature is too high you are turned away.
Complicated and confusing maybe but here's how the Mail reports it having claimed to have spoken to medical and government 'sources'@ https/www.dailymail.co.uk/news/article-8209347/UK-live-restrictions-coronavirus-vaccine-developed-say-officials.html
'As Britons look to return to a more normal way of living, restaurants and pubs are expected to be among the first non-essential services to open but could be made to restrict the number of patrons they let in at once. 
And football clubs could be forced to maintain low attendances at matches.'