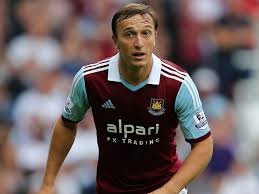 Former former Sunderland, Everton and Hull Kevin Kilbane has taken a swing at Mark Noble's likely decision to declare for Ireland.
He's not happy that the Republic is being kept waiting declaring:
"There are a lot of issues with me personally, growing up in England, desperate to play for Ireland and knowing what it meant to so many others in my situation as well.
"It doesn't sit quite right with me with me knowing that he is still keeping us waiting and he's been keeping us waiting for a number of years, that's been my issue as well. We're like a last resort."
He told RTÉ Sport: "Look at it on face value and he's a good player. We know he's played very well in the Premier League over the last 10 years or whatever it is.
"There are a lot of players that would run through a brick wall to play for us and that's the big issue that I have with it all. It's not club football. You can't play for one nation and then choose another. That's what I believe in.
"I understand when lads are 15, 16 or 17 and playing for a nation because they have been selected and also overlooked for who they would want to play for.
"I think once you get to Under-21 level and you decide your team and then all of a sudden switch allegiances to another nation, it doesn't sit right with me at all."
And former Ireland forward Clinton Morrison, who scored nine goals in 36 appearances, told RTÉ's Soccer Republic: "I think there would be a difficulty now because it has been going on for two years.
"He's been humming and hawing. I know what the boys are like, they will accept you and they are a great bunch of lads. He could be an exceptional player, but you have to want to play."