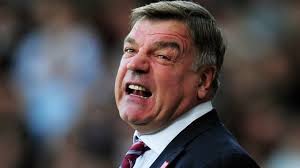 Sam Allardyce has faced what have been billed as many critical games over the last season or so!
But I genuinely believe that the clash with Hull City next Monday evening genuinely is an acid test affair for him.
Someone, somewhere has a pretty perverse sense of humour to make this Monday night match on Sky given the Upton Park clash between these two teams last season …no let's not go there!
But the best way for memories of that appalling night at Upton Park to be buried when we won perhaps the worst game seen at the Boleyn for many a long day would be with a thumping win.
And of course we want some style now the owners have backed the manager so comprehensively in the transfer market with options all over the place – except of course at the back!
Apart from Nolan and Carroll he will have a fully fit squad so there can – for once be no excuse-finding on that front.
Whether or not he will have his long time first lieutenant Neil MacDonald alongside him in the dug-out remains to be seen.
That really is an odd one – why would you want to give up a very well paid premier League assistant manager's job for Carlisle United? There's one hell of a difference in the pay levels!
The training ground grapevine is buzzing  that Macca and a senior member of the coaching staff had a pretty major fall-out and that the 'he's off ' speculation started soon afterwards.
There's still a view that with neither he or Allardyce likely to be around this time next year, Macca is looking after business.
Whatever the motives, things continue to look fragile around the managerial situation and another defeat  with Liverpool and Man U next up, really wouldn't be too clever.
Hull will be no pushover and Steve Bruce is likely to parade his four summer signings – Diame, who will need no winding-up, Abel Hernandez, Hatem Ben Arfa and Gaston Ramirez.
Monday night will tell us exactly where West Ham United are in September 2014…and more to the point perhaps exactly where Sam Allardyce is likely to be.