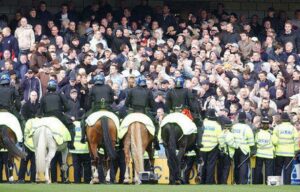 Millwall football club has trolled West Ham on the eve of the 16 year anniversary of their 4-1 win over the Hammers.
Millwall Official Twitter account wrote "Tomorrow is 16 years since we beat this lot 4-1!
To remember that special afternoon, we'll be filling tomorrow's timeline with various moments from the day
📺 You'll also be able to watch the whole game back at 12pm…#Millwall — Millwall FC (@MillwallFC)"
The game in 2004 ended 40 riot police and eight mounted officers were called into the stadium to quell disturbances at the West Ham away end at Den. Around 250 visiting fans who were season ticket holders left their seats in an effort to confront Millwall supporters in the West Stand. As the mob formed, cordons separating the away seating from the pitch were torn up and seats were thrown. It was a throwback to West Ham's hooligan days.
A 1,100-strong police presence could not prevent matters from getting out of hand. West Ham's captain Christian Dailly own goal opened the scoring for Millwall, prompting ironic shouts of "Shoot!" every time he was in possession in his own half.