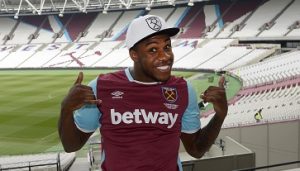 Hammer Michail Antonio will be forced to apologise by wearing a Spurs shirt after losing a bet with Ryan Sessegnon.
With the Friday night Spurs v West Ham game postponed Antonio took to Twitter to put out a challenge to play FIFA2020.
Michail Antonio apologised to West Ham fans as he revealed his devastation at losing 2-0 to Ryan Sessegnon's in a Friday evening Fifa 20 simulation of the London derby.
The virtual match was broadcast LIVE on Twitch and promoted by the West Ham official website.
"It was embarrassing," Antonio said on Instagram live. "I'm really disappointed in myself. I want to say sorry to all the West Ham fans out there who watched me play. It was embarrassing. I am better than that. 
I don't even know what to say. I can't look at my son. I almost lied to him (about the score).
I'm going to be better next time. There's going to be a next time and I will be better. I'm going to do some serious training now. 
Sessegnon managed 15 shots on target to Antonio's two on the Online game. Antonio will now have to pull on a Spurs shirt in a photo that is sure to go viral!