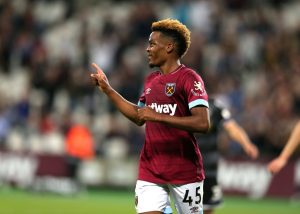 Hammer Grady Diangana will spend the second half of the season with West Brom it has been confirmed today.
The Academy graduate pulled up with a hamstring strain after four minutes during West Brom's crucial game with Stoke City earlier this week but today West Brom announced he would be staying. They released a statement saying  "The Baggies have reached an agreement with parent club West Ham United which ensures Grady will stay at The Hawthorns for the remainder of the Sky Bet Championship campaign. Grady is currently recovering from a hamstring injury, but Slaven expects the England Under-21 international to be back for the 'crucial stage' of the season."
Slaven Bilić said: "We were doing everything we could to keep Grady, but finally we have done it. He is staying with us until the end of the season. He got injured in the first minutes against Stoke but he is going to be back, hopefully very soon. It's not going to be that soon but it's not going to be that long. We are expecting that he will be back for the crucial stage of the season. I would be lying if I said I knew he would be this good, we didn't know, but I didn't want him here just as a squad player or as a number.
"To be fair, that was his question to me when I called him about the possibility that we would like to have him here. His question was 'boss, am I going to play here?'
"He said, 'you have this player and this player'. I said, 'you are not going to walk into the team but I know you and if you do what I think you can do, then you are going to be a very important part of the team.'"
Grady has arguably been Baggies player of the season so far but hadn't featured for a month after suffering a similar hamstring injury in mid-December. He spent 27 days out of action only returning from injury on 11th January playing 20 minutes in  2-2 draw against Charlton.
Last week a report suggested that Slaven Bilic was about to offer David Moyes an extra £1.5m loan fee to keep Diangana for the remainder of the season with another potential £3m loan fee for next season.