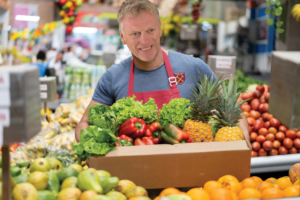 David Moyes is helping out his local community by becoming a  volunteer delivery driver for fruit and veg for a local store.
The 56-year-old West Ham manager relocated to his Lancashire seaside home before the lockdown to wait it out.
Speaking to the Sun he said: "When the virus first broke out, the fruit and veg shop in my village were asking for drivers to deliver fruit and veg. So I became a driver for the fruit and veg shop. I delivered it to all the people in the neighbourhood. I did it for about four days. There was a sign in the window saying 'volunteers needed'.
"My wife was away at the time, I was on my own. All I would do was drop the fruit and veg on the doorstep, knock on the door and then move away.
"I would knock, leave it and just check they came to get it. A lot of the customers were families. I've got to say they were beautiful, colourful boxes of fruit and veg.
"I was thinking 'this is great'. I was actually enjoying it.
"I'd drop them off, then go back to the shop and fill up my car to get another load. Most of the people paid online but the boy in the shop told me that a couple of people haven't paid and asked, 'Would you mind collecting the money?'
"At the first door an older lady came to the door and I think the bill was £16.80. She gave me a £20 note and said 'here you go son, keep the change'.
"I had a similar experience with another older lady.
"Her bill was £17.60 or something. She gave me £15. She was starting to dig into her purse and I said 'that'll do'. That was my tip gone!
"A few people recognised me. At each house I knocked and stood outside the gate to make sure someone was picking up the fruit.
"And you could hear them say 'Dave Moyes?' I never stopped for a conversation though. Everybody was just grateful for their fruit and veg. I was just doing my bit."