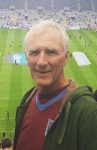 By CandH blogger Allen Cummings
Football is famous for throwing up quirky coincidences and strange twist of fate – and it looks to have done it again.
I'm not talking about the re-appointment of David Moyes – the man who saved our club once, and has been charged with doing it a second time. For me the 'added' quirkiness to Moyes' appointment comes in the shape of the opposition he will face in his first game in charge.
Bournemouth are the visitors on New Year's Day, when we will be looking to record our first home win in six attempts, and put our season firmly back on the rails again. Ironically for me, it was our away game against the Cherries, back at the end of September, that heralded the beginning of our dramatic demise – and the eventual departure of Manuel Pellegrini.
We actually took a point from that game, which briefly took us into third place in the Premier League. Heady days indeed. But the most significant thing in that game was the injury to Lukasz Fabianski, and the arrival of the hapless Roberto.
It would be wrong to blame the goalkeeper for everything that followed, but his subsequent wayward performances were a huge contributory factor to the results that followed, draining the confidence from both the players individually and the team as a whole. The manager should have read the signs early and reacted accordingly. But his stubbornness was not only infuriating but unfathomable. As a result he has paid the ultimate price.
Step forward fate – the arrival of Bournemouth – and the opportunity for new manager to start putting it right where it all started to go wrong. Our season took a dramatic turn for the worse on the south coast – now in the heart of east London, under the guidance of David Moyes there is a golden opportunity to start to put things right again.
We need organisation and motivation from the new manager. We need a performance from the team. But equally as important we need a positive response from us supporters. Let's get behind Moyes and the team and start 2020 as we want to go on.