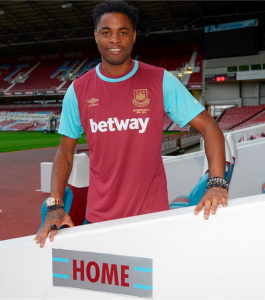 West Ham have officially confirmed the long awaited re-signing of Alex Song from FC Barcelona but on a season-long loan rather then a permanent deal.
Song told the Official Website WHUFC.com said: "I am very happy. For me it was very important to come back because when I was here I had a great rapport with the fans and the Club.
"It was a very easy choice for me to come back here and I'm very happy to be here.
"When I left I didn't know I would come back here. It was not easy but at the end of the day, the most important thing is I'm here now and I'm very happy.
"I feel at home, everything feels at home, for my family too, they're set up very well here. My kids are playing for West Ham academy.
"Everything was in a good place for me to come back here and I'm very happy to be here. It's a pleasure and it's like I never left here. I'm still here and I'm happy.
"This is a new year, new players have come in and we have the new manager. Everything is changing but the way that the Club wants to be, we have to look at the ambition of the Club and we have to finish better than we did last year."
Claret and Hugh broke the news of a one year deal exclusively last night just after 8pm.