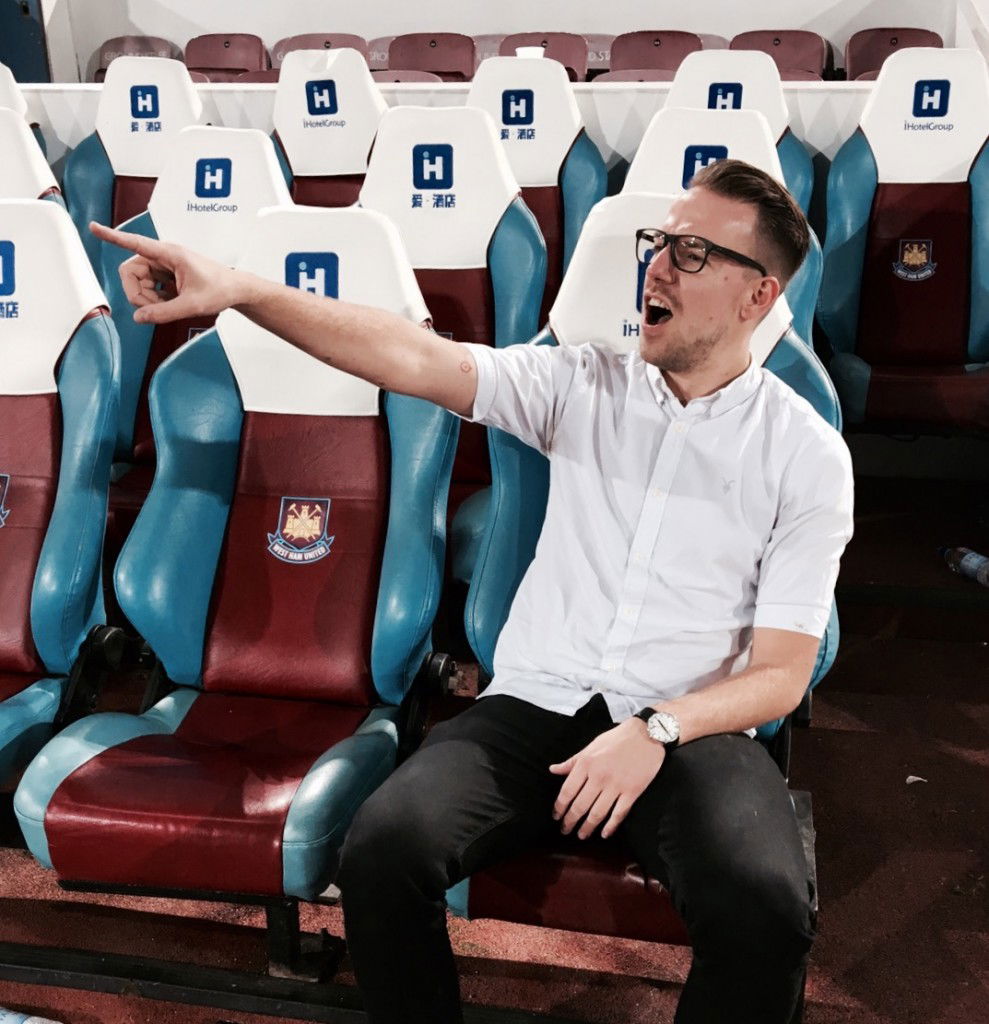 ClaretandHugh is delighted to welcome KUMB.com's award winning podcaster Chris Scull as he makes his debut as our latest top name blogger today.
'Scully' is one of the good guys and here he gives his exclusive overview of a season which simply gets better after admitting to the "paralysing" fear he felt before the Spurs match.
EXCLUSIVE
In a season of incredibly memorable moments, last week really seemed to take the biscuit.
With Spurs' extraordinary away record, and with the form they're in, I – like most West Ham fans – was paralysed by fear on the day of the Spurs game.  I could hear the forthcoming banter of every deluded Spurs fan, I could feel us being stuck with 'the last team to beat you at Upton Park' for decades to come.
But this team really is something else.  Spurs were never in the match and we fully deserved all three points.  Antonio, Payet, Noble, Collins; what further praise can we heap on these lads this season?
The atmosphere too was incredible; the rain lashing down, almost every Hammer in the ground giving it both barrels.  It was a night that will live long in the memory.
Have to say, personally, it was the first time a wave of emotion washed over me with regard to our upcoming departure from the motherland of Green Street – this was the last London derby with Spurs.
The lights, the sights, the smells; you could almost feel the hand of history on your shoulder.  All the hundreds of thousands of West Ham fans over those one hundred plus years – all those that came before us.  And there we were, the last game against Spurs.
I'm sure there's going to be a few more moments like that over the next two and a bit months.
As for the Everton game, again, speechless.  12 minutes of sheer delirium.
This season is already more than a bit special, the question now is; how far can we go?
People are already starting to discuss this season as potentially our best ever; I believe, in terms of our squad, that is probably true.  But for the record books and history to reflect that, we need our defining moment.
And so to Manchester in the cup this Sunday.  We were lucky enough to have the Head of Sport for the Daily Mail, Lee Clayton, on the podcast this week.  He didn't mind what happened this season as long as beat Spurs last week; but for me, this season is a collection of scattered good memories without that defining moment.
All the tension I felt about Spurs has almost doubled when it comes to United on Sunday.  If we win, we return to Wembley in the FA Cup for the first time in 36 years.  But not only that, we become serious contenders for our first major trophy in all that time (for the purposes of this article, I'm not counting our InterToto 1999 triumph).
It, probably, all comes down to this weekend.  We have a better team than them, I genuinely believe we should beat them.  They're low on confidence, they've got a busy mid-week.  But most crucially, they're really, really rubbish.
If we beat them on Sunday, a couple of wins on two days out at Wembley will define this season for a generation.
Failing that, we'll just have to beat them under the lights for fourth spot on the last game at Upton Park.  A game that is bound to be an emotional send off, not just for us, but for the Chelmsford Reds too I'm sure.
COME ON YOU IRONS!