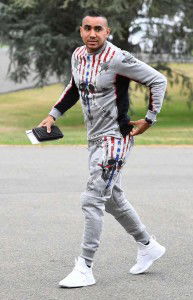 Dimi Payet has been questioned by some West Ham supporters about his commitment to West Ham after playing for France last night despite missing the last four competitive games for West Ham with a knock.
However, Payet's new pay deal means he has missed out on £100,000 of wages after missing the games for the Hammers! Payet earns a £68,000 per week basic together with £25,000 per competitive appearance bonus, so his injury has hit him directly in the pocket.
In theory he can earn up to £125,000 per week made up of goal bonuses, assist bonuses, win bonuses as well other performance related incentives but obviously he needs to play to earn these.
Perhaps it demonstrates to fans that Payet is not only motivated by money and did not want to take the risk in the previous four games for fear of worsening his knee injury.
French manager Didier Deschamps explained Payet's absence from West Ham: "The way he started this season is a little complicated. He started later and had some little issues physically speaking. But today it is solved, I'm going to deal with him especially during this time with the group because he didn't start any games with his club."