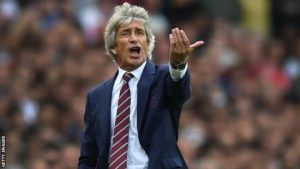 The battle to reach Europe is almost a matter of personal pride for Manuel Pellegrini as we approach the business end of the campaign!
It's become a matter of honour that he takes his teams into Europe after making a habit of it during his long managerial career.
With important players players returning from injury and a run-in less daunting than some of the others our chances of landing the seventh spot which may be enough are looking quite reasonable.
And Pellegrini will be stressing the need to keep the momentum going as the team head into Manchester for a seriously tough encounter against his former club..
Were we to achieve seventh place it would be a remarkable achievement given the ups and downs of this topsy turvey season.
Any sort of result against City would inspire terrific focus in the squad which has, after all, been far better against superior opposition this  season than against those teams they may have been expected to beat.
Discussing his Euro ambitions with reporters the boss said:"It will be a very important achievement for the team, the players, for me and for everyone.
All the years I work here in Europe I have always qualified for European competitions. We have an option [to qualify] and that is why we need to play so well these 11 games.
If we don't reach that achievement we will work next season to try to do it, that must always be our mentality to try to arrive in one spot for European competition. I think that this season if we do it, it would be great for the club and the fans.
Co chairman David Gold had tweeted earlier that last Friday the West Ham bench was the best in decades and the squad may be ready for Europe.
Pelle – commenting – said: "If you review the bench of the last game we have some important names. Andy Carroll, Samir Nasri, Manuel Lanzini, Marko Arnautovic. But not all of them are 100 per cent fit.
If we can play with all of them in a good moment, of course I think we are going to have a strong squad. That is what we are working towards and that is why we are looking to achieve European competition which would be very good. If not, we must continue working. I agree with David Gold.