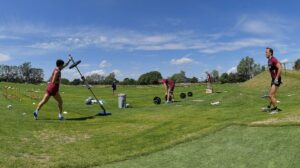 West Ham's first-team squad continued their training at Rush Green over the Bank Holiday weekend including Monday.
The Hammers have been strictly abiding to Phase One of the protocol agreed by the Premier League, all 20 clubs, independent experts and the Government, training in small groups of five, maintaining social distancing, arriving and departing in their training kit and working with disinfected equipment.
The intense sessions for each group of four to five players are being led by David Moyes and his coaching staff Alan Irvine, Kevin Nolan, Paul Nevin and Xavi Valero, following warm-ups conducted by fitness coach Josh Ewens.
The Government has now published guidelines for Phase 2 of contact training with the Premier League due to talk to managers and players on Tuesday with a Chairman vote of all Premier League clubs at a Shareholder meeting on Wednesday.
That is expected to be approved allowing contact training to resume from Thursday.