The Metropolitan police will deploy significant resources outside the Stadium and surrounding areas on Wednesday evening  as West Ham take on Chelsea to prevent any breach of the peace or unsocial behaviour by both sets of supporters.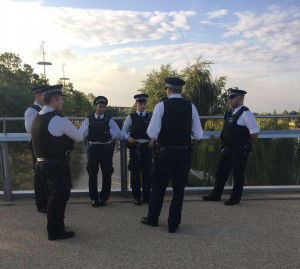 The police will be under overall control of a gold commander but there will be a silver commander and four bronze commanders deployed for this London derby.
Each bronze commander will have four Police Support Units (PSU's) under their command which will mean several hundred police officers will be deployed outside the stadium  and within the park and anywhere fans gather in numbers.
Mounted police, police dogs and the police helicopter will also be available for this match.
Although three police officers will be deployed in the London Stadium control room, the police do not intend and have not been asked to locate officers within the London stadium in any significant numbers.
A fully functional Airwave radio system will not be installed in the stadium until next February but that will not prevent the police from entering the stadium if called upon.
The police say that away fan segregation and control within the stadium is clearly a job for the stadium operators and the stewards rather then the police. The police commander admitted during a recent supporter meeting in their Lambeth HQ that they have the right  to turn down requests to provide officers in a stadium if they do not believe it is necessary or a waste of resources.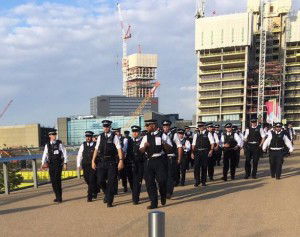 However they explained that they were working closely with operators London Stadium 185 and stewards and would provide a proportionate police service in relation to the risk and treats to each match.
The police confirmed that London Stadium 185 has deployed over 1,000 stewards deployed at recent home matches and that number could increase for the Chelsea cup game.
Chelsea away fans will not be held back by default after the game although the police confirm it is a tactic available in their 'toolbox' if  and when required but that is a decision for the Gold commander on the night. The police also say they would prefer not to create away fan escorts which sometimes causes more problems then  solve saying that fans often become more aggressive to each other when they think they have the safety of police line in between them.
The police reiterated that the London stadium has an excellent High Definition CCTV system in place across the whole stadium and the Olympic park area. They say they could easily read the text on a newspaper held by a supporter in their seat and warned anyone involved in potential incidents On Wednesday would be ultimately identified and dealt with appropriately with the full weigh of the law.