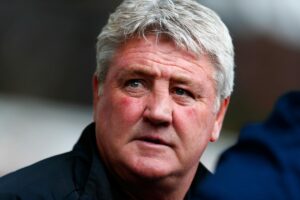 The Premier League should consider delaying its planned restart towards the back end of June so players have more time to get match fit, says Newcastle United manager Steve Bruce.
Club chairman and chief executive will meet the Premier League again on Monday to discuss rules around training during the coronavirus pandemic. The top-flight league is aiming to resume on 12 June but Bruce wants to restart to be moved to a later date.
"We need enough preparation time to get these players into shape or they are just going to fall down like a pack of cards," he told the Sunday Telegraph. 
"Most of the managers have the same concerns. We would need at least six weeks. I don't see how we can play games until the back end of June.
"You have to remember that they have had eight weeks off and that is probably the longest break some of these players have had in their careers."
Claret and Hugh say:
Hard to disagree with Steve Bruce,  today was supposed to be the last day of the season with players jetting off with their families for their summer breaks. Professional footballers are entitled to five weeks of holidays with three weeks in one block over the summer. Most clubs return to pre-season training at the beginning of July with the first scheduled match of the next Premier League season scheduled for 8th August giving them five weeks of full-contact training and pre-season games.
While training in groups of five may return on Tuesday it will be impossible to do proper full squad training until 1st June at the earliest so a full four weeks from then would be a sensible proposal. The Premier League would like to re-start on 12th June with the 19th June said to be a backup date but many managers including David Moyes are concerned rushing players back before full training would cause injuries.