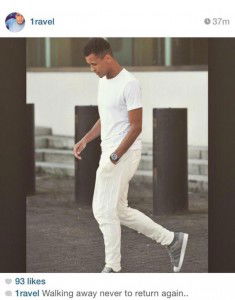 It may mean everything …it may mean nothing!
But one thing the latest Ravel Morris Instagram picture proves is that the midfielder is back on the Upton Park scene – for now.
Rav's enigmatic social media moods have become par for the course over the last couple of years as he chose to leave left cryptic messages and poses of himself in Chelsea and Arsenal tops.
Such distractions haven't been missed as the Irons have flown into the top four but he decided to show himself off again today when posting the new image.
It was accompanied by the words: "Walking away never to return again."
Mind you it's possible knowing Rav's style that he could have been in Morrisons and has decided to shop at Tesco