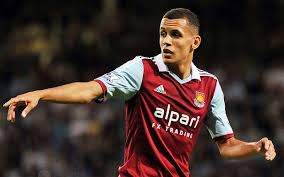 Ravel Morrison was quick off the mark to deny stories in the national press that he wasn't happy to play under Sam Allardyce.
It had been reported by "sources" close to the midfielder that he  may be unready – after alleged summer problems between the pair – to play for the West Ham manager.
The reports added  that were the manager to be removed from his job the player may return.
Ravel, however, tweeted: "Papers talk a lot of rubbish. I don't care what manager I play under all I want to do is play football."
That sounds fair enough at first glance but raises the question: "What happens if he gets dropped  for a game or two?"
His statement echoes  allegations reported exclusively on ClaretandHugh in the past that he may want regular first team football as a given.
The use of the words : "All I want to do is play football " raises its own questions which hopefully he will answer.
In the meantime it's good to learn that he has no other deeper problems at Upton Park.
A  trusted source told us: "He will be coming back in the summer and play a full part in the pre-season. Our preference is for him to sign a log term contract with the club."
Follow on twitter @hughsouthon