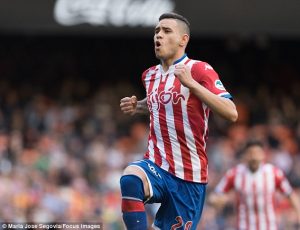 According to a report in Spanish media outlet  Marca, West Ham are planning to offer a bid of around £20 million to sign striker Antonio Sanabria from La Liga outfit Real Betis.
The 22-year-old is a full Paraguay international, having made nine appearances for his country since making his debut in 2013. He scored eight times in eight starts for Betis in 2017/18 and became the youngest ever player to score a hat-trick for Sporting Gijon during his loan spell at the club from Italian giants Roma in 2014/15.
Marca says that Betis had hoped to keep Sanabria for the 2018/19 season after qualifying for the Europa League.
Real Betis share 50 per cent of the youngster's rights with Roma, meaning they would only receive half the transfer fee should West Ham sign him.
West Ham pocketed up to £11m from the sale of Cheik Kouyate but would probably need to sell another player to balance the budget for Sanabria. The Hammers previously said they were looking for a backup striker to replace Jordon Hugill so if true this would be a step up of the calibre that was originally envisioned.