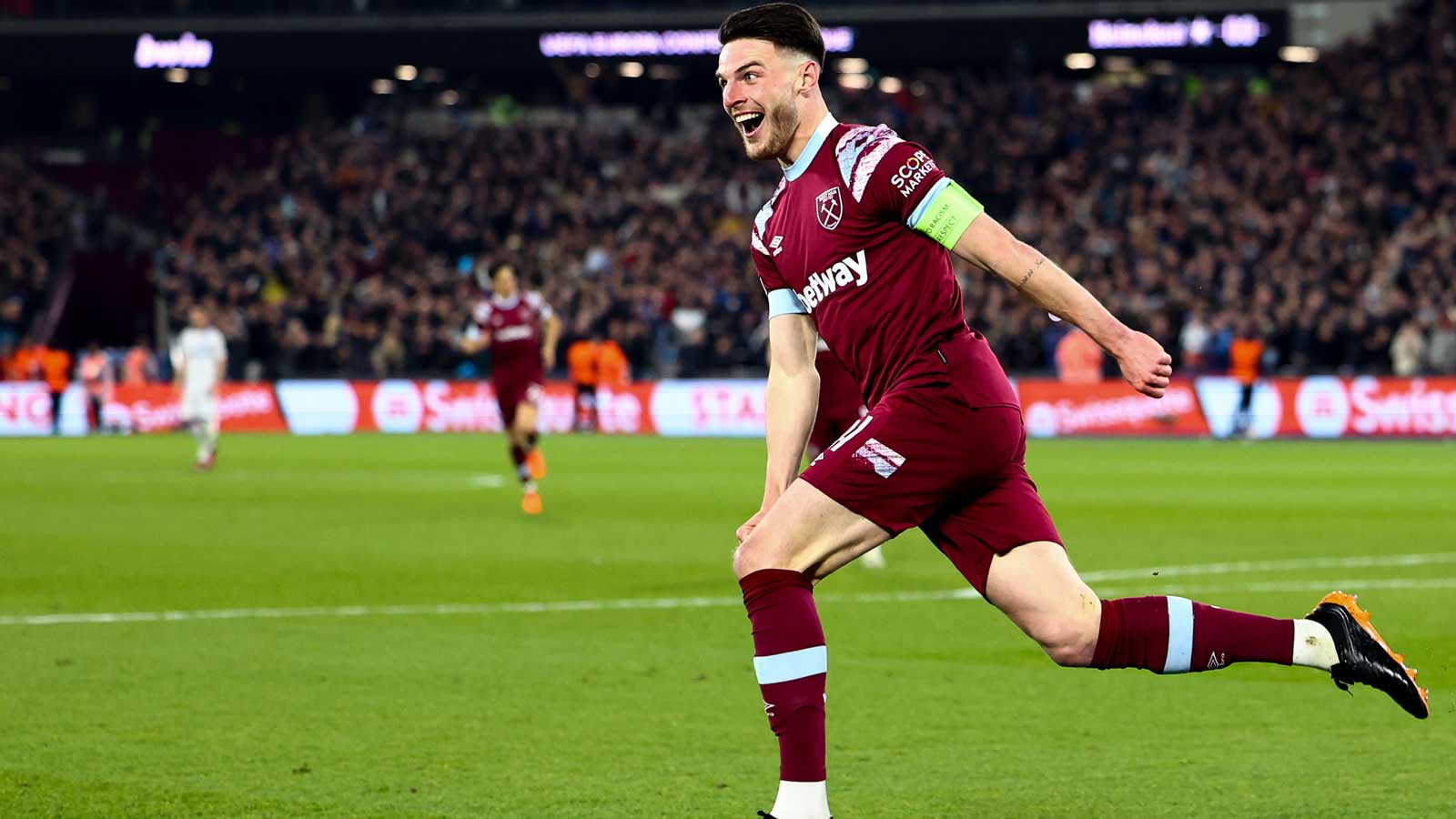 Nobody knows more than Declan Rice just what an enormous achievement it would be for West Ham to lift the Euro Conference Trophy tomorrow night.
His departure this season is the furthest thing from his mind as he bids to lead the club to a wonderful triumph in what will be his ninth year as a Hammer and no one can doubt that this is his club and will always be No 1 in his heart.
Such has been his amazing input into claret and blue that there could be no better tribute to him than to be remembered in the same breath as the club's greatest icon Bobby Moore who lifted the Cup Winners Cup back in 1985.
They are very similar characters in that they both barely drew controversy and instead chose to be fine human beings and total professionals in all they do,
So here is the young man standing on the brink of near legendary in Parague and here's what he has to say about it per www.whufc.com: "Every time I put on the shirt, I know how big it is.
This will be the biggest match that the Club has had in so long, so it's going to be an honour to be part of and hopefully we can create some history on the night for the fans to cheer about.
 He told www.whufc.com "I think the feeling of the defeat we had last year against Eintracht Frankfurt, and the way the two legs went – conceding in the first minute in the first game at home, coming back, but then them scoring again, then we went to their place and had a man sent off. It was just how it went for the whole tie – it lives with you.
"This year, going into the semi-final, we just looked at it and thought, 'What an opportunity.' And to go out there and do it – we've already created history by getting to the final, but now there's a chance to go and create a legacy where every single player, the manager, everyone involved will be remembered forever.
"I think it's a unique opportunity that we've got, that we really want to take."
"The stand-out moment so far was the Gent game where I scored the goal after the run," he continued. "That game will stick with me forever. I think that's probably one of the best goals I've ever scored.
"But then also there was the Alkmaar game, the second leg. They were a really good team, but to win the game and get to a final, I think that's a really good barrier to get past"Now it's a final, anything can happen. It's a game of football and we'll do everything we can to do the job.
"I think it would be my biggest achievement I've had in football so far. 100 per cent. I think that would be for a lot of us. I think to win a trophy like this, a European trophy, with West Ham, I think it puts every player at a higher status within the Club in terms of with the fans, how you'll be remembered.
"I think it would just mean everything, to be honest. Just to lift that trophy, especially to be with the lads as well – our group of boys are such good people, and to see them laughing and smiling and singing after the semi-final game, 
"It's definitely got the fire in our belly to have those kinds of nights again, and we've got the chance to do that. There are loads of things that add to it, but for me it's just about wanting to see the lads smiling again and wanting to lift the trophy, wanting to see our families after with the trophy, just everything that we've got 90 minutes to do.
"It's in our hands, so we're going to push to do that."