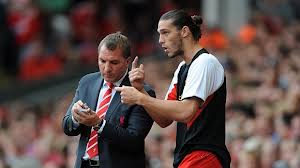 Brendan Rodgers has lavished praise on the striker he wanted to get rid of – our Andy Carroll and insisted his sale was not down to a lack of ability.
Liverpool are gunning for a ninth consecutive win at the Boleyn on Sunday afternoon and the Geordie boy will be wound right up to stop them.
Carroll moved to Anfield from Newcastle United for a club-record fee of £35million in January 2011 when Kenny Dalglish was Liverpool manager, but was sent to Upton Park on loan when Rodgers took over before the 2012-13 season before then making his transfer permanent last June.
However, Rodgers said there are few better target men in the game than Carroll, adding he only sold him because he couldn't fit him into the style of play he wanted to implement at the club.
He said: "Andy wasn't let go from here because he wasn't good enough. I think he's one of the best players in Europe in how he plays, that style of attacking the ball in the air – he's outstanding.
"Everyone knows the way I work; it was never to say that Andy couldn't work that way, but he needed to play. He's gone on and done great for West Ham.
"Sometimes you get sucked into doing it more direct and clearly – with my history as a coach, I don't work that way."
Liverpool will also come up against another familiar face in the form of Stewart Downing, and Rodgers added that he did not want to sell the winger in the close-season.
He added: "Stewart Downing, like all the players in the opening few months when I came in, it was difficult for him. But then he really progressed and became a very important member of our team and squad by the end of the season.
"But the money that we were offered for him was going to help in getting other players in and help us continue along our journey within the philosophy."