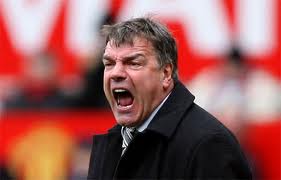 Sam Allardyce appears to believe the protests against the team's performance level are being led by "a small minority on social media."
And speaking to Sky Sports 'Goals on Sunday' he added that a little research showed that many who were complaining weren't even at games.
That overlooked the fact, however, that millions can now view the team's matches on any number of 'streams' thus allowing fans to make a critical assessment.
Interviewed by Chris Kamara and Ben Shepherd, the West Ham manager declared: " If you lose three consecutive matches people are not happy especially when two of them have been at home.
"Against Crystal Palace we had 67 per cent of the play and still lost but it's my job to keep the players' belief up.
"Only a small minority of fans are complaining. I sign autographs and photos every day but social media gives people the chance to criticise and you then find that many of them haven't even been at the game…it doesn't take too much research.
"We are only in our second Premier League season and we are attempting to build a sustainable premier League team that can compete from the Olympic Stadium."