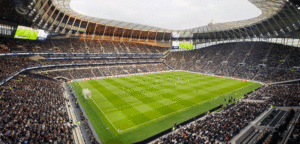 West Ham's lunchtime game against Spurs in their Stadium on 27th April will not be affected by their progression in the Champions League.
Spurs will play Ajax on the 30th April in the Champions League first leg of the semi-finals so hopefully, they could field a weakened team as they focus on a possible Champions League final.
West Ham has an allocation of 3,000 for their Premier League visit away to Spurs three days earlier and ticket went on sale on Monday for season ticket holders with 40 or more priority points.
Bond Holders had the first priority and will probably take up to 300 for this game, next comes around 100 tickets for players and staff followed by 700 Away Season ticket holders
Club London members are likely to receive another 125 tickets meaning that around half or 1,475 tickets will remain. Around 1,175 tickets will be sold to season ticket holders with priority points and 300 will be saved for season ticket holders in the 10% ballot. The fixture is expected to sell out quickly.