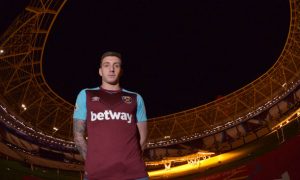 Jordan Hugill is eyeing up the Southampton fixture with his fingers crossed and hopes high.
The £10 million signing made it through his first 90 minutes for the Irons at Dagenham and Redbridge and scored the third near the end.
And he commented to the official site: "I'd like to think I gave a good account of myself. Obviously, the goal was good for me and good for the team and the 90 minutes I played and the hard work I put in should put me in the manager's mind.
"But, at the end of the day it's down to the manager and not down to me and it's one of those things where I'll keep plugging away and plugging away and, when my time comes, I'll be ready for it.
"I'm really excited for the Southampton game, which is a massive game for the club and one that, if I play my part in it, I'd be delighted. It's a massive game so hopefully we can come out on top."
"It was a good run out and I think we did well in the end. The score-line was good for us and I was obviously delighted to get on the scoresheet.
"At the end of the day, the main thing for me was to get 90 minutes under my belt and get that work in that I've been missing out on recently, so that was the main thing for me.
"Their lads got a few blocks on my shots on the six-yard line, so it was a bit disappointing in the first half for me as I felt I should have had two goals, but I kept working hard and got my reward in the end.
"I was delighted with the finish in the end but the main thing for me, as I said, was to get the 90 minutes."