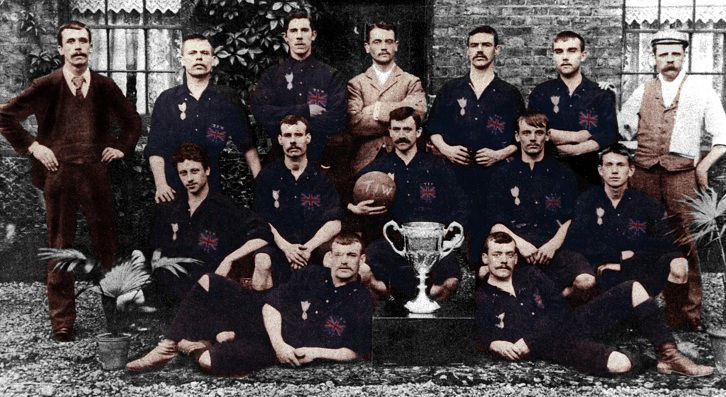 The Thames Ironworks and Shipbuilding Company, Limited, operated at the mouth of Bow Creek on the River Thames between 1837 and 1912 producing the world's first all-iron warship, HMS Warrior, which was launched in 1860.
Thames Ironworks and Shipbuilding Company owner Arnold Hills was approached by foreman and local referee Dave Taylor, who suggested that the company form a football club with the aim of improving the morale of the workforce. Hills agreed and an advert was placed in the company's journal Thames Iron Works Gazette on June 29, 1895.
Hills was himself a superb athlete, having been the English mile champion and appeared for University FC (Oxford University's football club) in their 1877 FA Cup final defeat by Wanderers. More than 50 workers put their names forward to join Thames Ironworks FC, many of whom had played for other east London clubs in the past, including the recently-disbanded Old Castle Swifts, with each player paying a subscription of two shillings and sixpence (12.5p) to join the club
Although Dave Taylor, a foreman in the shipbuilding department, undertook the task of forming a football club within Thames Ironworks in the summer of 1895, the idea was not his alone nor was it a 'spur of the moment' decision. With the demise of the Old Castle Swifts there were a number of its former players who were employed at the Ironworks and now found themselves without a football club.
Hills had been involved in a bitter industrial dispute with his employees that year, thought that the formation of a football club might help improve the mood of his workforce.
The information appeared under the headline: "The importance of co-operation between workers and management". He referred to the dispute that had just taken place and insisted he wanted to "wipe away the bitterness left by the recent strike". Hills added: "Thank God this midsummer madness is passed and gone; inequities and anomalies have been done away with and now, under the Good Fellowship system and Profit Sharing Scheme, every worker knows that his individual and social rights are absolutely secured."
Football training took place on Tuesday and Thursday nights in a gas-lit schoolroom at Trinity Church School in Barking Road. Training mainly consisted of Army physical training exercises. They also went for runs along the Turnpike Road (Beckton Road).
Other employees who played in the team included Thomas Freeman (ship's fireman), Johnny Stewart (boilermaker), Walter Parks (clerk), Walter Tranter (boilermaker) James Lindsay (boilermaker), William Chapman (mechanical engineer), George Sage, (boilermaker), George Gresham (ship's plater) and Fred Chamberlain (foreman blacksmith).
Thames Ironworks Chairman: Mr F. Payne  Treasurer: Mr G. Johnson Secretary: Mr A.T. Harsent
Committee: C. Hill, A. Dance, Cameron Firth, Selby, W. Proctor, G. Patterson, T. Dearl, T. Robinson, D. Large, D. Taylor, E. Smith, E. Bickford and J. Cearns.
Thames Ironworks FC's first-ever match was an FA Cup first qualifying round tie at Chatham played on 12 October 1895 – they lost 5-0!
The Club's first captain, Scotsman Robert Stevenson, played for Third Lanark and Woolwich Arsenal before joining Thames Ironworks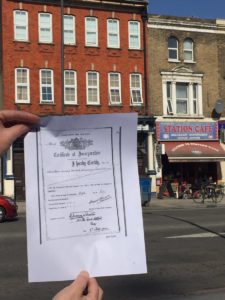 FC in 1895, as he worked for the company as a shipbuilder. Thames Ironworks FC played in three different divisions in their five-season existence – the London League, Southern League Division Two and, in 1899/00, Southern League Division One.
The Club turned professional in 1898, having been promoted to Southern League Division One, and signed a number of salaried players from English and Scottish clubs. Thames Ironworks FC played their final game, a Southern League Division One relegation Test Match against Fulham at White Hart Lane, on 30 April 1900 – they won 5-1!
Thames Ironworks FC was wound up in June 1900. The previous team was replaced with West Ham United which was formed on 4th July 1900 by seven men in a room above 55 Barking Road creating the modern legacy.
Tomorrow, Monday 29th June 2020 marks the 125th year anniversary of that fateful advert in the Thames Ironworks Gazzette and is widely accepted as the date the football club was formed.