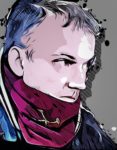 Gonzo hands out the marls
Fabianski:6
Forced into an early saves by Podence & Jonny. Most of his saves were from long range shots.
Kehrer:7 Deployed at Right Back ahead of Coufal. Always looking to move the ball forward as quickly as possible. His shot led to West Ham's second goal.
Dawson:8 Good to have him back at the heart of the defence. Seemed to thrive when presented with the physical challenge posed by the hulking Adama Traore.
Zouma:7 There were points in the game when West Ham didn't have the ball and were sat very deep. At times such as this Zouma thrives with a succession of headers and blocks.
Cresswell:6 Kept his area of the pitch very quiet until Traore switched wings. Tried to link with Rice & Paqueta where possible. Second half error could have been costly.
Rice:7 Not outstanding but Rice was the most complete midfielder on the pitch.
Soucek:8 Immediately forced to help out the defence as West Ham retreated into full defensive mode within the first 5 minutes. Excellent tackling and heading as always. Surrenders possession too easily. Provided a cameo as a winger by continuously drifting wide. Played a pivotal role in the second goal. Impressive defending.
Paquetta: 5 Operated on the margins of the game without ever fully impacting the flow of the match. Yet to find a favoured position or to acclimatise to the pace of the Premier League. Showed a glimpse of his potential with a clever pass to Bowen.
Cornet:No score: Started quite brightly but was forced off early in the game with an injury.
Bowen: 9 Looked lively early on and forced the Wolves keeper into an error which Scamacca nearly exploited. Linked more and more with Scamacca as the game progressed and was crucial in the opening goal. Scored West Ham's second with a precise assassins finish.
Scamacca: 8 He's a real handful and always looking to shoot. Scored with a powerful half volley to finish off an attack which he instigated. Protected the ball well when dropping deep. A real warrior.
Fornals: 6 On as a 32nd min sub for the injured Cornet. Worked incredibly hard and tried to join the attack. Not a left winger so West Ham lost their threat from that side when Cornet departed. Attempted two shots which were tame.
Antonio:6 65th min replacement for Scamacca. Not really involved but imposed himself physically and looked lively.
Emerson: 73rd min replacement for Paqueta