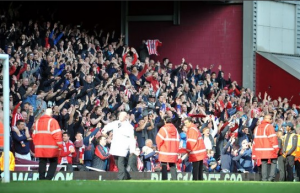 Stoke City fans made vile chants at the Boleyn Ground on Saturday which bought the memory of Hammers Legend Bobby Moore into disrepute on the eve of what would of been his 74th birthday.
Several West Ham fans in Sir Trevor Brooking lower and East stand close to the away fans heard a small section of the crowd singing "Jimmy Saville, he sh…ged Bobby Moore"
They also chanted "There`s only five of you English" which seemed to bemuse some West Ham fans, although presumably it is a reference to the amount of foreign players we fielded on Saturday.
One Stoke fan took to Iain Dale's West Ham Till Die.com this morning saying "As a Stoke City fan I am ashamed at the behaviour and totally unacceptable chanting from a few of the away supporters on Saturday.
"I shook my head in disbelief at some of the comments. All football clubs have a small minority of "fans" who seem intent on embarrassing the good name of their club and each and everyone of the true football supporters that follow it.
"Most of the comments on our own fanzine, agree that such behaviour has no place in society I believe that Stoke City are investigating the incident and as difficult as it can be, hopefully can identify those involved.
A big concern is the number of supporters who then decide to sing along without even realising how offensive the words are.Your club and fans were very welcoming"
Many fans on the Stoke City Fanzine "The Oatcake" message board also called their own fans "embarrassing."