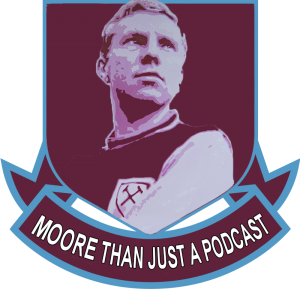 Episode four of season nine of the popular West Ham podcast Moore Than Just A Podcast is now available to listen online or download. Claret and Hugh Associate editor Sean Whetstone is joined by Nigel Kahn and George Bucci to discuss the start of the Premier League season with the Hammers 5-0 defeat against Manchester City at the London Stadium on Saturday.
We discuss the pros and cons of VAR as well as covering injury news and a round up of some West Ham news.
As normal we answer questions from our listeners on Facebook and Twitter in this one hour and 12-minute episode.
Download or listen online at www.moorethanjustapodcast.co.uk
The podcast was recorded on Monday evening of 12th August. It is available on all popular platforms to listen online or download including Acast, TunedIn, Player.FM and ITunes
Now also on Spotify too at MOORETHANJUSTAPODCAST
Join the discussion on the MTJAP Facebook group at https://www.facebook.com/moorethanjustapodcast/