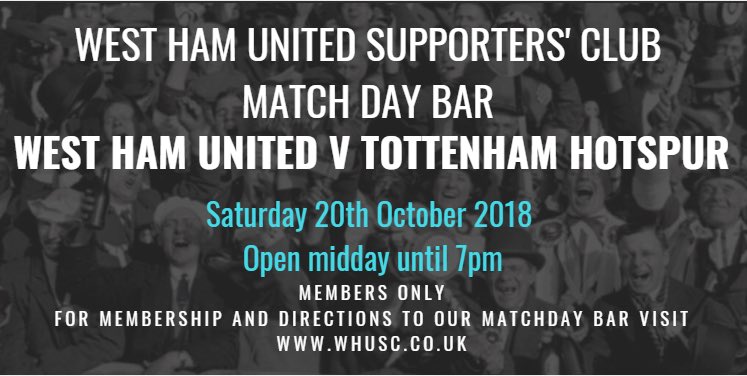 The West Ham United Supporters' Club is open this Saturday  at Stour Place from Noon until 7pm for members.
The current membership year commenced on 1st June 2018 and expires on 31st May 2019.
Membership is still available at £25 per person and is available on the link below.  The new plastic membership cards must be shown on entry where they will be scanned to record your attendance. Under 18's are admitted free to the Club's venues and DO NOT need to be a member!  However, if your Junior Hammer would like their own membership card so that they can have it scanned on entry and really feel part of the Supporters' Club then you can sign them up  as a Junior member for a one off payment of £5 to cover the cost of  printing and sending them a membership card.  The same card can still be used when they turn 18 and join as an adult.  We'll even buy their first  drink!!
Match Day Bar address: West Ham United Supporters' Club Match Day Bar and Cafe
Stour Space, Roach Road, London E3 2PA   Directions to Stour Place are here
Both Hughie and Sean will be at the Supporters' club on Saturday so hope to see many of you before or after the game.