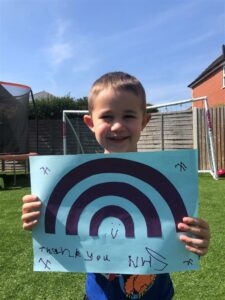 Young Hammer Liam Southwood has risen to West Ham United's #HammersAtHome daily challenges!
The five-year-old superfan has entered every single challenge set by the Hammers since the new series was introduced by Michail Antonio, at the end of March.
Little Liam has embraced the challenges, drawing photos of Antonio, Bobby Moore and NHS-supporting rainbows, writing poems, working out possible strike partnerships, commentating, cooking, scoring goals and making saves!
His father Rich says  "Liam loves it! He did the first challenge to demonstrate a PE activity, which was set by Michail Antonio, and he won, so he's looking forward to playing a game of FIFA against his favourite player after the lockdown has ended.
"He has been going to watch West Ham since he was three and has had a Season Ticket since before he was born, as we signed him up for one when we moved to London Stadium in 2016. Liam's older brother Joe only started going when he was six or seven, and I did worry that Liam was too young and he'd get bored, but he has been West Ham mad since he went to his first game against Huddersfield in March last year, and has been to every daytime game since!" I think the challenges are brilliant because they're educational and also some are physical, so they're really beneficial," confirmed Rich, whose father Howard was a long-serving journalist for the Ilford Recorder and the Echo, covering West Ham and Southend United for many decades.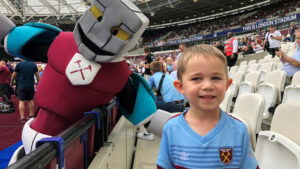 Speaking Exclusively to Claret and Hugh his father Rich added:
"He has so far had over 22,000 views on social media and messages of support from people all over the world.  We have been contacted by newspapers and BBC radio London who are interested in his story. Liam really loves doing the challenges and has been saying he wants to do his own "mega" challenge. He really enjoyed doing a challenge inspired by Michail Antonio his favourite player and yesterday he said he wants to do one hundred and one dribbles, goals and celebrations. By doing this we thought it would be great to raise funds for NHS Charities Together through a just giving page. We have raised £790 in a few hours and hopefully, it will start to grow.
"He will be doing his challenge on 2nd May. We are looking to try and create social media interest through West Ham and the football community. If a footballer re-tweets his posts or donates then he will do one of their celebrations as part of the challenge."
https://www.justgiving.com/fundraising/LiamSouthwood