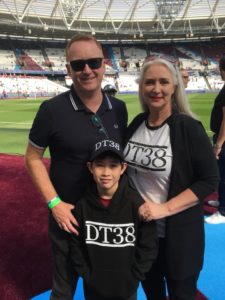 Words of West Ham Mascot Lucas Gardner Age 7
We got up early and went to the stadium when almost nobody was there.  I met all the other mascots at our meeting point and also met Martin Allen, my dad said he was a really good player In the old days.
I got my photo taken with all of the other mascots on the pitch and then we were taken to the changing rooms to meet the players.  I met with Fabianski, Masuaku, Diop, Zabeleta and lots of others and they all signed my autograph book.  I was a bit sad I didn't see Mark Noble or Declan Rice but it was still fun.  We then went out on to the pitch and had a hard training session which I really enjoyed. By now the ground was beginning to get busy which was really exciting.
I was then allowed to go on the team bus and told where all the players sit. Then it was time for the game to start.  I was holding Zabeleta's hand and he was really nice and kind. I shook all the hands of the Leicester players and the referees. The noise from the crowd was great.
The game finished 2-2 with Antonio and Lucas scoring.  After the final whistle we went near the pitch and Robert Snodgrass gave me his match shirt and is now one of my favourite players. I had a fantastic day even though we did not win……and thank you Robert Snodgrass!!
Lucas Gardener – 7 years old
Photo: Tracy Lee Tombides with Chris and Lucas Gardener Winners of the Mascot
WHUISA
auction which raised £700 for the
DT-38 Foundation