By Gonzo
West Ham boss David Moyes is about to find himself in the most luxurious of conundrums, and perhaps vindicate his decision not to purchase a striker on transfer deadline day.
Gianluca Scamacca is believed to have returned to training and may be in contention for the Premier League clash against Chelsea on Saturday. With Michail Antonio performing well, and recent acquisition Danny Ings now fit, Moyesie suddenly has attacking options.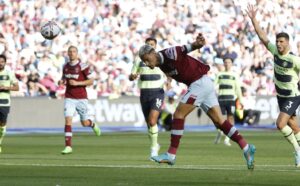 I'm intrigued to see what the Hammers gaffer will decide to do with his front line, given the recent formation switch. I believe that Antonio will start the game against Chelsea, but it's that games that follow which make things interesting.
His system of three centre backs allows for some flexibility and dare I say, TWO strikers? I'm fully aware that this mythical scenario is highly unlikely but I'd be excited to see a front pairing of Scamacca and Ings at some point.
Our Italian £35m summer signing performed at his peak for club and country in a partnership with Giacomo Raspadori. I don't believe that David Moyes has got the best out of him in an isolated role at West Ham thus far. With that in mind, it could be that Danny Ings is the perfect foil, and I can't deny I'd be excited to see us play with two strikers.
Whatever happens, Moyes decisions are going to make for fascinating viewing.