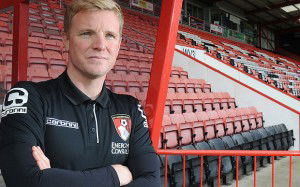 Sam Allardyce reckons it's great to see one of those guys tipped as his possible replacement at West Ham – Eddie Howe – doing so well!
It looks unlikely that the 37 year old Bournemouth manager will arrive at the Boleyn however, despite widespread praise across the game.
Some felt he would like to step up to an established Premier League outfit but all the signals are that he will stay where he is.
Allardyce said in his Evening Standard column: "Eddie Howe went back home to Bournemouth after an uncomfortable time at Burnley and look what he has achieved.
"Eddie seems to have a good relationship with the club owner, who has supported him financially, and together they made their dream a reality.
"My one piece of advice for Eddie now is to make sure you stay in that Premier League. Nothing else matters.
"If you do that, you can establish yourself as a quality, British manager in the Premier League.
"Some manage it, others don't but it's a great challenge for Eddie and I wish him every success for next season and beyond."