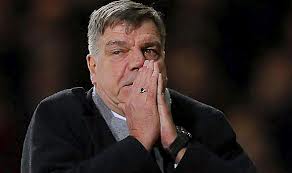 Sam Allardyce  has used his London Evening Standard column to remind us "I still have a job here at West Ham."
He understands – he says – why the speculation is there but adds: "I would stress that, providing everyone is happy, I would like to stay at West Ham. They are a great club, moving in the right direction and a lot is now in place for sustained improvement."
He says that whilst he and the owners  have always been comfortable with waiting until the end of the season before talking a new deal, the downside has always been that it fuels speculation. Are they going to give him one? Are they going to get rid of him? Does somebody else want him because he is out of contract so there is no compensation?
He explains – although we know anyway – that this "creates a bubble of rumour and speculation "and, really, it's one we could all do without, particularly when one short, unsubstantiated tweet can quickly become 'fact' to a lot of people."
Having been linked with the Nigerian international job, Allaryce says: "I presume the Nigeria connection, for example, is because Jay Jay Okocha, who played for me at Bolton, and is now involved in football in that country.
"For me, Jay Jay is a top man, one of the best I've met and Nigeria's equivalent to David Beckham in his stature and the esteem he commands in his homeland."
He doesn't believe the  speculation about  has affected the West Ham players saying: "A lot of the same lads went through something similar two years ago when my contract came up for renewal."
But he said: "The important thing for me and the players is to start winning games again, beginning tomorrow against Sunderland, who have Dick Advocaat in charge for the first time.
He said: "I don't think it's too difficult to work out that Sunderland haven't been scoring enough goals, even though their draw ratio — 14 — is the highest in the Premier League, the inference being that if Gus Poyet had turned six of those into wins, there wouldn't have been a problem. "