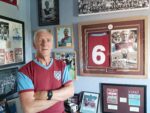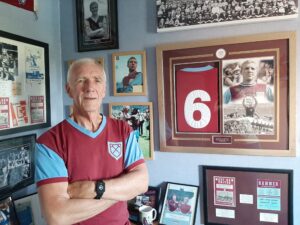 By CandH's top blogger  Allen Cummings
We have all missed football – a great deal at the beginning when it was first snatched from our lives – but maybe not quite so much as the full extent of this awful virus began to dawn on us, along with the terrible toll it was taking on innocent lives both young and old.
At that point many of us began to realise maybe football wasn't quite as important as we all sometimes feel. In the course of normal events, if the season had continued, we'd now be at the business end, where it all happens, where.  the eventual destiny of our team would be decided.
Like a lot of West Ham fans I was excited by our two new additions, Tomas Soucek and Jarrod Bowen and I was confident with their help we would at last see what this squad was capable of, and we would pull clear of trouble.
Despite the return to training, albeit very limited and restrictive, the actual return to 'playing' football is still some way off and is by no means a forgone conclusion. I'll be happy to have football back – when it's right – but what I won't be looking forward to is a return to the negativity that threatened to engulf our season.
The anti-board rhetoric – the GSB pin badges –  black balloons at games – static protests – silent marches. We have seen and heard none of those since football was curtailed – and I haven't missed them one little bit.
Since then we might have seen what would have happened to this club had the board listened and walked away because it is they are responsible for putting in £30 million into WHUFC via a rights issue!
Thankfully the mood around our club, and the way it has reacted in this unprecedented crisis, has been far more in praise than in condemnation. Of course old grievances will remain, they won't suddenly disappear, we all know that. But maybe, just maybe, the 'credit' that has been built up at our club will linger on.
So for the time being lets go on enjoying the fact that West Ham has been a far happier place – a beacon of positivity and an example to some clubs who have been mired in condemnation and disgust for their actions – Spurs for example!.
Beyond the rights issue, our players were one of the first groups to agree to wage deferrals, while at the same time making donations to local charities. The club were one of the first to pledge full pay to non-playing staff without the use of government furlough.
The manager and directors readily agreed to wage cuts. and David Moyes even doubled-up as vegetable delivery boy in his local community. West Ham United have been a 'good news' story amid a 'bad news' disaster.
We know it won't last when normal service does resume. It wont be allowed to – but while it does let's just all go on enjoying it for as long as we can.