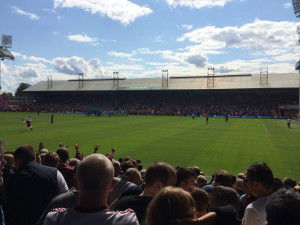 I have just recovered from a tremendous Saturday away day. When I wrote my 'Apathy at the Boleyn ground' piece last weekend what I failed to mention is away days are completely different and they were most of last season too! There is a completely different atmosphere at away games and a great day is usually had by all, win, lose or draw. We had not beaten Crystal Palace at Selhurst Park since 1991 until yesterday and our last win at home was 11 years ago on in Division one in October 2003.
Palace were becoming a bit of our bogey side and the omens were not good when I was allocated row 13 to watch the match from. The pubs outside the ground were buzzing full with West Ham fans buzzing for their first away day of the season. When I arrived at the ground the Selhurst Park bar prior to kick off, the Hammers were celebrating like we had already won the match, you can sample the atmosphere on the video clip below.
News filtered to the bars around the ground that  Kevin Nolan was carrying a shoulder injury and that Mauro Zarate would start and Carlton Cole would also start instead of Sakho or Valencia, Vaz Te inclusion was also a puzzlement to many of the 2,600 Hammers fans around the ground. The away support was brilliant as usual and the Hammers sung their hearts for 90 minutes only briefly muted for a few minutes by Chamakh's consolation goal.
Mauro Zarate, Chekihou Kourate, Aaron Cresswell all stood out for me and were out to prove they needed no time to adjust to the Premier League pace and skill. Captain Mark Noble also worked his socks off and was key to the first half dominance. I told my mate standing next to me it is was like watching Brazil in the first half as we went in two nil up thanks to two well taken goals in three minutes by Zarate and Downing. In fact we should of been more than two nil up at half time but we didn't care, the sun was shining and we were winning away. Another thing worth mentioning is the passion Adrian shows every time we scored, he ran over to the away fans and celebrated close to us when each of the first two goals went in, he has a great relationship with the away fans.
Second half Palace came at us and as normal with West Ham we had a dodgy ten minutes when they scored their goal and looked like they were going to score one or two more.  Everything in the team did their piece to turn things although Ricardo Vaz Te stood out as out of his depth and I wondered why Sam started him, I was saying the same about Carlton Cole just before he proved me wrong by scoring a goal. I am a Carlton Cole fan but I was eager to see Sakho or Valencia. It was a surprise to see Sakho and not Valencia come on in the 83rd minute, after just 7 minutes in the Spurs game I assumed Valencia would get more time on the pitch in the second half to build up his match fitness. Diego Poyet also came on second half to the song 'He tweets what he wants, he tweets what he wants, Diego Poyet, he tweets what he wants".  There was was some great banter and songs with the Palace fans. When the final whistle went and the score was 3-1 we celebrated late into the night and there were many sore heads on Sunday.
However in the sober light of evening we must remember the manager-less Palace were poor and I can see them struggling this season, I can't see us playing like Brazil against the Saints next weekend and I am trying to keep my feet firmly on the ground incase I let optimism creep back into my head with regards to this season. I look forward to my next away day at Old Trafford.