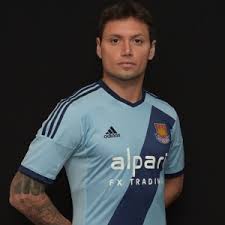 Mauro Zarate has told the world not to compare him to former Wet Ham mega hero – Carlos Tevez.
But under the  guidance of  attacking coach Teddy Sheringham he reckons he can become a potent force.
After a sensational Hammers Premier League debut he revealed that extra sessions  with former England international were the key to his volley which sent West Ham on their way to a stylish win.
He said: "He has really helped me. We have been practicing volleys like that in training. From the edge of the box – the same.
"He was very happy and ­celebrated the goal, too. I am very happy because I scored. That is my job."
He revealed  that he's in touch with Sergio Aguero adding: "Sometimes we have dinner together.
"Always I told him that I wanted to come back to England. He said: 'Come, come'. He said West Ham was a good move for me."
But the question on the lips of some Hammers fans after the Palace game was:  In Zarate have they found the next Tevez?
The new Hammer immediately knocked that back saying: "He is a star, he won everything. The Champions League with Manchester United, everything with Manchester City. Now he is with Juventus. I am very different.
"Thank you for comparing me with him. I know he was very popular with West Ham fans. I hope I can have the same impact.
"He scored some very important goals for West Ham but I am another person, another player, so I want to go step by step."
Will Zarate have the same impact on West Ham that Car