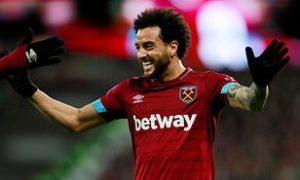 Felipe Anderson is a wanted man with Napoli reportedly showing an interest attracting interest ahead of the summer window.
Anderson of course made a fine start to his Hammers career last term but has been out of touch and left on the sidelines since the Anfield defeat.
According to  Corriere dello Sport, Serie A,  outfit Napoli are looking to tempt the Brazilian away from the London Stadium this summer.
Mail on line reports that Gennaro Gattuso's side are aware that with his Serie A experience he would probably slot in quickly following  Lazio.
The 26-year-old still has over two years remaining on his current contract at West Ham but it remains to be seen whether Davis Moyes would be interested at the right price
Anderson has found the net just once in 22 Premier League appearances this campaign, while providing four assists.
ClretandHugh says: Should Napoli follow through on the reported interest we can see the manager being presented with a dilemma. We have said before that we are not sure that the Brazilian is a player that the Scot would normally be attracted to and such has been his form this season that were the money on offer to be reasonable a switch to Serie A could well be on for a player who has seriously split opinion among the fans this season. The big problem perhaps would be whether Anderson – who will inevitable be offered less money than he is receiving in the Premier League – be ready to leave the Irons after hopefully two competed campaigns. Our bet would be that were – in what is going to be a very flat market – an offer of around £35m to £30 million to come in then he could easily be on his way back to Italy