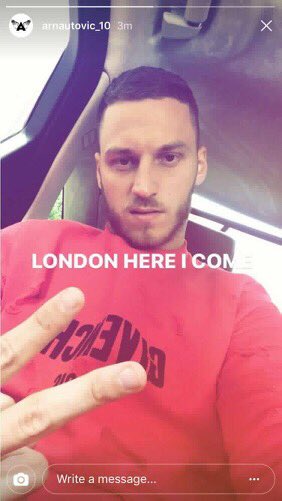 Some players pen heart felt messages to fans thanking them for their support when they leave a club but Marko Arnautovic has decided to post an unusual photo with a gesture saying "London here I come" to his Instagram followers.
The 29-year-old is expected to complete a medical today ahead of a £20m move to West Ham on a five year deal on wages of £100,000 per week.
The Stoke winger scored 6 Premier League goals last season with 5 assists. He scored another goal in the league Cup and three more for Austria.
Marko will be hoping to put his previous Austrian bad boy image behind him. He once borrowed Eto'o's Bentley, and it was stolen while in the Austria forward's ­possession. He said the  ­incident affected him so badly he was unable to train.
He has also cycled into a golf cart, tore a knee ligament while playing with his dog and insulted a Vienna policeman by saying: "Shut up, I earn so much I can buy your life." for which he was later suspended for the remainder of the season by his then club.
Tales of fights with team-mates during his time at Werder Bremen and being dropped by the Austrian national team amid reports of late-night clubbing.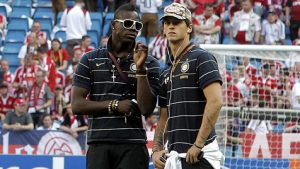 Arnautovic also roomed with Balotelli for a year at Inter Milan where the pair became good friends previously caused a public storm during an interview by claiming that his ideal woman was tattooed with silicone-inflated breasts.
Jose Mourinho summed up mixed feelings about Arnautovic by calling him "a fantastic person", but adding "he has the ­attitude of a child".
Sounds like he will fit right in at the London Stadium.