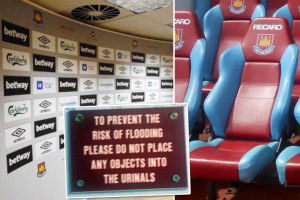 The West Ham online auction has raised over £300,000 for the club's Academy so far with over £48,000 going to the auctioneers in fees and nearly £56,000 in VAT to the tax man.
The stadium contents auction – including the signs, seats, gates and other fittings from The Boleyn Ground opened on May 18th and closed yesterday and later today.
The first set of auction lots which closed yesterday is claimed  to have raised nearly £204,000 in final bids. Buyers paid auctioneers Hilco Global a 'buyers premium' of 16% setting them back another £32,640 before VAT of 20% was added on to give tax man £47,328.  The grand total of takings for day one is estimated to be just under £284,000.
Day two has  already passed £100,000 in bids which would see at least £16,000 in  auctioneers fees added plus VAT of at least £23,200.
The £304,000 raised so far will go to fund the Academy but whether this is additional funding to the Academy or just replaces existing budget remains unclear.
The Football Memorabilia Online Auction  opened on 23rd May 2016 and is set ti close over two days on 13th and 14th June. A live Webcast Auction was be held at the Boleyn Ground last Saturday 4th June.